Dutch Eredivisie club AZ Alkmaar have boosted their attacker with the signing of Danish player Jens Odgaard. The attacking talent has made the decision to continue his professional football career in the Dutch top flight after spending the last two seasons in the division. Odgaard spent the last two years in the Dutch Eredivisie as a Sassuololoanee. He was at Heerenveen on loan from Sassuolo for the entire duration of the 2020/21 season. Odgaardwas also on loan at RKC Waalwijk for the whole of last season.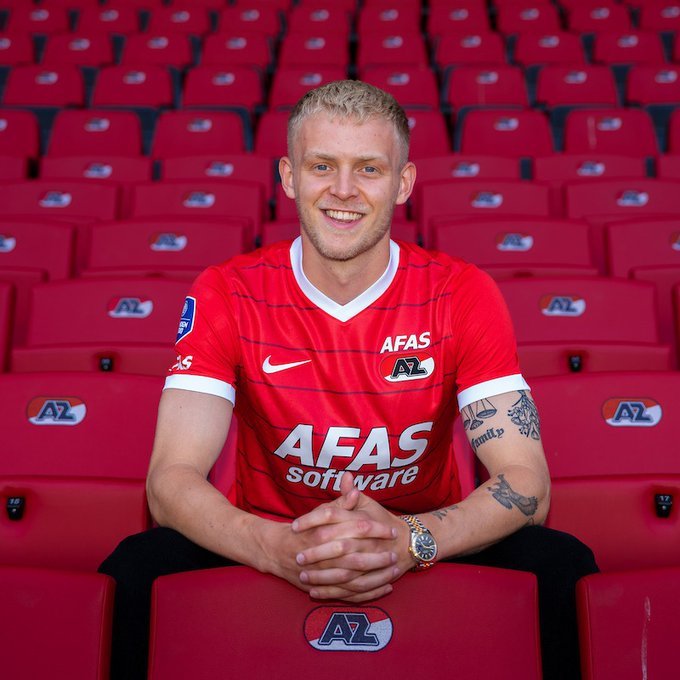 AZ Alkmaar were convinced that his long-term future is at the club on the back of impressive performances for Heerenveen and RKC Waalwijk over the course of the last two years. To this effect, AZ Alkmaar reached an agreement with Sassuolo to secure his signing from the Italian Serie A club last month and it didn't take long for the transfer to go through officially.Odgaard put pen to paper on a five-year deal to become a new player at AZ Alkmaar after they reached an agreement for his transfer with Sassuolo for €4m.
The good displays Odgaard made for RKC Waalwijk last season played a big part in the decision made by AZ Alkmaar officials to sign him. Odgaard joins the likes of Mees de Wit and MayckelLahdo as new signings this summer at AZ Alkmaar.
On his transfer to AZ Alkmaar, Odgaard told the club's wesbite that his first impression of the club is very good. He was impressed with the beautiful AZ Alkmaar stadium and the training facilities at the club.Odgaard acknowledged that the club is one of the biggest in the Netherlands. According to him, it is a big step in the right direction for him and that he can't wait to play for the club in the league and in Europe.