https://pbs.twimg.com/media/E8shcNJWQAYnS8R.jpg
AZ Alkmaar failed in their bid to lure Joey Veerman to the club before the transfer window ended last week Tuesday. Inside Futbol reported how AZ Alkmaar made an offer to sign the SC Heerenveen midfielder and it was knocked back by his club via Dutch magazine Voetbal International.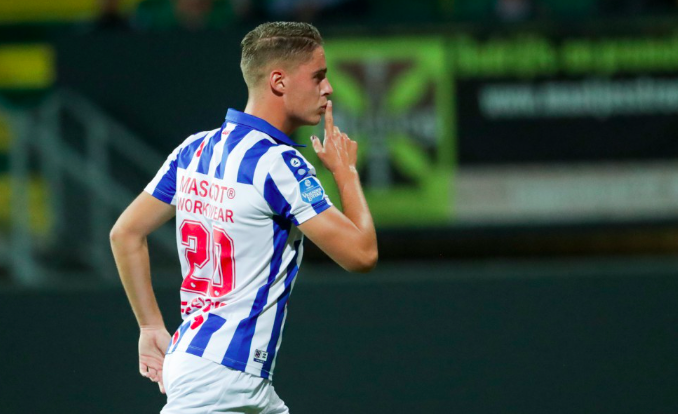 AZ Alkmaar wanted to sign Veerman from their fellow Dutch Eredivisie club Heerenveen but were unable to pull off the transfer.
On the offer made by AZ Alkmaar, Heerenveen sporting director Ferry de Haan told Voetbal International shortly before this summer's transfer window came to a close last week Tuesday that the future of Veerman remains the same as few weeks back and that the player is not for sale. Veerman has a future as an Heerenveen player and that was what happened as the club failed to entertain AZ Alkmaar and their offer for Veerman.
On his part, Veerman was keen to leave Heerenveen before the transfer window ended but he was unable to get his move away from the Dutch Eredivisie club. He had said that Heerenveenabout what they want from his departure.
Veerman, 22, came through the youth system at FC Volendam before making his professional bow at the Dutch team. He moved to Heerenveen two years ago and has been able to establish himself as one of the best young players in the Dutch Eredivisie. The player signed a five-year deal when he moved from FC Volendam to Heerenveen in 2019. The defensive midfielder has three years to run on the contract he signed upon moving from FC Volendam to Heerenveen.
Apart from AZ Alkmaar, Scottish Premiership giants Rangers were also reported to have an interest in Veerman but they didn't make an offer for him before the transfer window ended. Rangers boss Steven Gerrard is said to be a big fan of the player. Only AZ Alkmaar made an offer for him.